Happy Friday & welcome back to Process, where I'm sharing my steps to build a career as an artist week-by-week. Let's recap the week 💐
Is there a better possible way to start off your week than listening to wise words of the unstoppable Ashley Longshore? I listened to this podcast interview from the Jealous Curator with her and lemme tell ya, if you need a reminder to get to work and create fearlessly, give it a listen. I've listened to this podcast episode once before, and felt like I needed to return to it again this week for that reason. Danielle Krysa (the host of the pod) mentioned a successful way to critique your own artwork. She advised divorcing yourself from your work as if it's someone else's, then observe what the strengths are and what improvements could be made. I often have a hard time separating my emotions from my art and if you're like me and are not immediately surrounded by artists in a regular or formal critique setting, this may be a helpful exercise.
This week I read Andy Warhol, Prince of Pop by Jan Greenberg and Sarah Jordan. As someone without formal art education and museums currently closed in London, I'm pushing myself to self-educate about prominent artists, not just their work but also their lives and what brought them to a career as an artist. What I've learned so far is there's no one path. This book made me interested in how Warhol created his screen prints, and I found this video from Tate explaining the process. On the site you can also get a look at a wide array of Warhol's works on display at Tate modern, and get a room-by room, look at the exhibition. I'm so excited to see some Warhol pieces in person once the Tate Modern opens back up and visiting the Andy Warhol Museum is now a bucket-list item.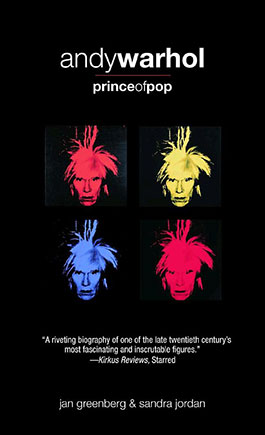 Apparently I've been living under a rock, because only just this week I discovered Google Arts and Culture, and it's amazing! On the site you can discover new artists, learn about their lives visually through their art, zoom in on super high resolution photos of art, virtually visit a national park, and a bunch of other cool stuff. It's also a great way to get your museum fix if you're not able to visit one in person. The most amazing collection I've seen so far is Rha Hye-Seok: Korea's most daring feminist artist. Hye-Seok is an ICON and reading her story is a reminder that glass ceilings are made to be broken.
Due to the limited space, I've been painting on acrylic paper since I moved to London. I initially ordered a pad of Winsor and Newton Galleria Acrylic Paper, and it was fantastic. Out of curiosity I wanted to try out a different brand, so I ordered the Daler Rowney Acrylic Pad and the quality was toootally different. I hadn't realized at the time that the gsm value for these two were different .. honestly I didn't know what "gsm" was. Turns out its a measure of paper thickness and stands for grams per square meter, so I higher value is thicker and better quality paper. The 300 gsm (Winsor and Newton) was far better I terms of the paper holding its shape once the paint was on it. It's a little more expensive but makes a world of difference.
And finally I completed 2 paintings this week. One was a storefront, the Hampstead Butcher and Providore in London which I visited this past weekend. Some process photos and the reference photo for this piece can be found on our instagram.
Thanks for recapping with me, don't forget to check out the blog and our instagram pages for more content, and catch you here next week!
-Sierra 🌻